We introduce ourselves as one of Pakistan's leading event management companies with lateral thought process.

Every event we organize is in unique and different in terms of presentation, look, purpose, target audience etc. To meet the ever expanding requirements of our client we offer high values, specialized services to address individual needs of our clients.

Our success has its roots in our commitment to quality and excellence in all spheres of our activities.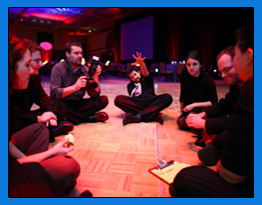 Our teams of talented professionals with lateral thinking are pivotal organizing various events. We are company known for our conceptual, visual and practical perfection.
What we have:
Skills, techniques and tricks of the trade of professional event planers.
What we do:
We offer a full range of creative and management service nationwide and we deliver on time and budget, we always hit dead lines and pay great attention to details.
We work to a critical path schedule, because we want you to be reassured that everything is on time, on track and on budget.
Why Choose us:
Organizing events can be demanding and costly, so we take the strain leaving you more time on your hand.
We reduce cost and increase attendance with our event management solutions.
At UES, we know that planning and organizing events, exhibitions and conferences can take us a lot of your valuable time and disrupt your schedules.
At UES, we take care of everything, from conceptions to creation, giving you a total peace of mind, knowing that your event will be effective, successful and enjoyable.
UES can offer as much or as little input to suit your individual requirements to give you an idea of what available, we put together some of our own and clients favorite.
If you are looking for the perfect setting for your next event, company party, UES has right solution for you. Imagine this, the sky is vibrant with colors as the sun settles gently the sweet scent of air and flowers, we have all this for you, we pride our selves on giving our clients and their guests the best experience